Even though many people disagree in believing supernatural or spirits exist, there are numerous incidents and cases which remain a mystery even to this day. Its up to the individual whether he believes in ghosts or not. But all th major religions in the world agree that ghosts and spiritual beings exist and they even perform exorcism to the possessed humans. There are numerous stories of such incidents where science can't explain how it can be possible. There are many haunted real houses in many countries which are declared as haunted real houses and living there is banned by the officials. In this article we write about few haunted places in United States of America, continue reading to know more.
The Whaley House in San Diego, California:
It was in the year 1852 when Yankee Jim Robinson was hanged for his theft on a location. After a few years Thomas and his wife Anna Whaley bought the place where Jim was hanged and built a house on top of it. It was after few days when the couple started to experience abnormal events and finally came to conclusion that it was Jim's ghost in the house. Later the property was classified as being haunted by the US commerce department during 1960's.
Lizzie Borden's Bed and Breakfast in Fall River, Massachusetts: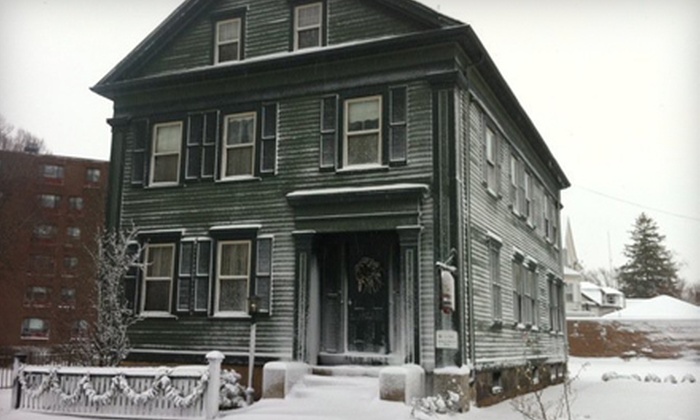 A psychopath killed Andrew and Abby Borden using an axe in the year 1892. Their daughter Lizzie was arrested for the murder and was acquitted. After her death she started to haunt the house where her parents were killed. Even to this day people have heard her to be laughing by stopping n top of the stairs. Now the home is a museum and even does an annual remembrance of the crimes committed in the home.
Villisca Ax House in Villisca, Lowa:
In the year 1912 a house in Villisca suffered a dramatic incident where entire family was murdered by an axe along with their 4 children and their two little friends. Till date no one knows who murdered them. Now people can book the house and stay there for a night to experience the screaming of the murdered souls.
Amityville Haunted House in Amityville, New York:
This is one of the famous haunted real houses in America. During the year 1974, a kid named Ronald Jr. shot dead his mom, dad, two brothers and two sisters when they were sleeping. He was later convicted and received life prison. When the house went up for sale, a couple bought the house and they had three children. Soon after they came to the house, they started hearing weird noises and swarms of flies used to enter the home. Their youngest daughter even made an imaginary friend, which lead the parents to leave the house one month later.
There are many more haunted real houses in all the countries. You can even pay to stay in the above discussed houses and experience the fear, agony and screams of the victims. Till date science and many other departments couldn't tell the reason for the strange occurrences.